Keynotes Offered by Shirley Lee (a.k.a. Meeting Wizard)
NOTE: Most keynote speeches are for 20-30 minutes. Interactive keynotes may run 45-60 minutes.
Click to see where open-to-public presentations have been
Communicate Clearly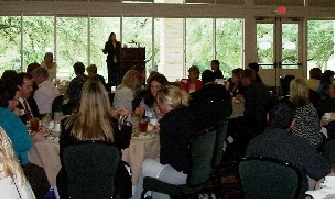 Perfecting Presentations with the 4 P's
20-30 minutes explaining how great presentations are the cornerstone to sharing information, making sales, and getting the desired results. The four P's of presentation are the steps that can help with creating and delivering presentations. The four P's are: Plan, Prepare, Practice, and Perform.

Create with Plan and Prepare, which are the creative steps where you will ask yourself questions about your subject and audience in order to create the best possible presentation. (see related article)
Deliver with Practice and Perform, which are the delivery prep-steps with suggestions that help you polish your presentation. (see related article)

Interactive version includes 10-15 additional minutes for discussion of typical PowerPoint errors and body language expression by presenters.
Communicate clearly (a.k.a. The 3 Aints of Texas)
Communication, whether written or verbal, is key to success because it can effect how our initiatives and plans are perceived and carried out. By looking at how things are pronounced and clearly understanding the importance of listening and review we can vastly improve how our future communications are received. We will do this by looking at the pronunciation of three aints to:

Understand who the audience is and what the purpose of the communication to them should be.

Make sure the communication relates to audience using words and terms they are familiar with.

Insure the communication is trusted information and does not cause irritation to the intended audience.
SIFT through clutter for what you need
When you organize your workspace, you accomplish things more quickly by knowing where to find necessary items when you need them. We can unclutter by working through The SIFT recipe to learn how to take action by:

Developing a scheme how the new area should look by analyzing it's current and future use to determine a plan and schedule for reorganizing.
Initiating the organizing plan by sorting items to find the right place for everything you keep and eliminate what you don't need.
Determining the best way to format storage of the kept items and efficient use of our space.
Triumphing over the clutter by making a plan for keeping everything organized before we call it done and take time to celebrate.
SIFT and SIFT2 to de-clutter
Longer interactive version of 4 points from "SIFT through clutter for what you need" with a deeper look at initiate portion with SIFT2 categories and adding discussion time on problems areas where group helps in determining potential solutions.
Manage Meetings

Moving meetings from boring to productive (based on R.A!R.A! book)
35-45 minutes on how can we make all of our meetings be both enjoyable and effective. We can do this by using a four part meeting management approach like RARA which stresses important elements of productive meetings. With the RARA approach, meeting leaders and members learn to:

Assign appropriate roles to insure the meeting is successful and its purpose is accomplished.

Create an agenda to start and end meetings on-time, as well as keep meetings focused and on-track.

Utilize meeting records to track progress during and after the meeting, keep members focused, and to prevent redundancy or rabbit trails.

Initiate action during the meeting and assignment of follow-up actions with due dates to people so outside tasks are completed.
How do we know if our business meetings are a worthwhile investment of our time or just a loss in productivity? To start with we will take a look at a formula for determining the typical cost of a meeting and what gets accomplished in an average meeting. Then we will evaluate our typical meeting to determine where our weaknesses lie. Afterwards we will determine an approach that will move our next and future meetings from ineffective to productive. This version is perfect for meeting and project leaders looking for new ideas to improve their meeting management.
Longer interactive version of 4 top points from "Moving meetings from boring to productive" with the evaluation portion of "How do your meetings score?" This version is perfect for organizations that focus on training, coaching, or leadership.
An interactive discussion of why people go to meetings, which includes what types of meetings require active participation by attendees. If meeting is held for the right reason, how can you make sure the meeting purpose gets accomplished considering the personalities of the attendees? If the wrong people are attending, what can be done to fix this so the right people are participating in the meeting?
30-50 minutes of interactive discussion based on ten mistakes meeting leaders make. Designed for leadership members to discuss how they can improve meetings they lead.
30-45 minutes of facilitated discussion based on seven meeting blunders participants bear. Designed for team members to discuss how they can improve their meetings.
If it is a professional responsibility to develop skills that help to improve the services and documentation provided for your business meetings, then an understanding of minutes as the historical record of what happened in the meeting is key. Having the skills to provide a good history of each meeting can save company managers and employees time in future meetings and will insure the necessary actions outside the meeting are completed so that the productivity of meetings is also improved. This 45-60 minute interactive session is designed for administrative and other professionals who are responsible for providing this key record-keeping role to understand how the production of minutes can be most beneficial to the people reading them. Production guidelines for professional minutes will include:

Key elements to put at the beginning of minutes

Methods for recording meeting discussions

Why definitions in documentation are important

Why just recording decisions is not enough

Information that should be put at the end of minutes

Ideas to improve the value of the record-keeper role
Managing our time effectively is critical to our success and the success of our personal projects and business today. Is the old time management still working or do we need to adjust the principles to fit the work of teams and managers now? People may try to implement some portion of a time management philosophy or program but often they only do this on the job. So few are successful in embracing the concepts outside the business environment, which also makes them less successful at keeping on-track at work. Is there an easier way to get a better grip on both our professional and personal time? Yes, by utilizing the steps outlined in TAPP where individuals learn to:

Focus on doing the most important tasks each day in order to achieve goals.
Schedule those appointments that are vital to meeting their important goals.
Assign priorities to their tasks and appointments in order to best meet their goals.
Understand how working in teams and with other people can affect their time management plan in both positive and negative ways.
Since women entered the workforce many have maintained that they must not only do their "for pay" work but continue their other family and civic duties as well. Are the "do it all" attitude and the stress it can cause really necessary for the women of today? Must women continue to feel that they each must be superwoman for everyone by keeping every appointment and doing every task themselves? Learning to manage time may help to create the woman you want to be without sacrificing the people and priorities that are important to you.
Does Your Business Need A Social Web Footprint?

The world of social marketing for business or information gathering can be confusing to navigate. It can be hard to decide what to say on-line or find the best way to spread the news about a new products and service. In 30-40 minutes, this interactive presentation should help answer the following questions about planning a social footprint for any size business:

Who should be on a social network and Why?
What social media is available and How you can use it?
When and Where can you learn more or share expertise?

Who's Afraid To Tweet? (a.k.a. Twitter Basics)
In approximately an hour, this Twitter tutorial covers the basics of using this social networking tool. The session will discuss how to use Twitter for closed group communication such corporate teams or friends and family, as well as using it publicly for marketing and information sharing. The presentation portion will cover the following basics for new users and potential users.

Twitter for personal or professional purposes
How to use Twitter as a research tool
What is the best way to set-up an account - Public vs. Private
How to use an account to send a tweet or retweet (and the what's difference)
Where to find people to follow and/or how to get followers
Sending and receiving direct messages
Proper etiquette on Twitter
Approximately 30-45 minutes for this session designed for people already using Twitter or social networks for their business marketing and promotion. Session covers the list feature in Twitter as a way to help manage the influx of information on Twitter to an account, as well as applications and utilities outside of Twitter that may be used to manage messaging or following. Where to get widgets, badges, and buttons for websites and blogs is noted. .Also covered is interfacing Twitter account with Facebook, LinkedIN, and MySpace status updates.

May be used as an extensive follow-up discussion or short advanced user lecture after "Who's Afraid to Tweet" for current users of Twitter or people who use other social networking tools and wish to know more than just how to get started on Twitter.