Testimonials
[RARA] Book and presentation was easy to follow and implement. - Meeting Mgmt Training Participant
I enjoy taking classes led by Shirley because of her enthusiasm for her subject matter. - Training Participant
Shirley, a knowledgeable instructor quickly went through/cut to the chase on how to do things! Great.
- Training Participant
Shirley has an astounding depth and breadth of knowledge. She is always willing to share her knowledge in creative ways. - Training Participant
The best thing about this course was Shirley as a good instructor, knowledgeable and went outside teaching materials A++. - Training Participant
Courses and Seminars Facilitated by Shirley Lee
(a.k.a. Meeting Wizard)
From Productivity series: (click here for descriptions)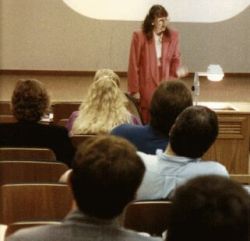 Time Management (Tasks, Appointment, Priorities, People)
Workspace Organization
Meeting Management (Roles, Agenda, Records, Actions)
Meeting Management Train the Trainer (Ask About)
Project Management Simplified (Staffing, Tasks, Timeline, Budget, Milestones/Critical Path)
Shirley Lee designed the Wizard series in 2003 as a way to help individuals and teams build planning and organizing skills. Shirley Lee has been a strong advocate of time effectiveness principles, such as creating a list of tasks to be done and then scheduling the time to do them, since 1987. To help others learn to better utilize their time, Shirley spread her enthusiasm for the topic by teaching Time Management classes and seminars beginning back in 1989. Shirley feels that organizing work areas is a natural extension of individual time management.
To extend the planning and organizing principles to groups and teams, Shirley Lee felt information on effective meetings and well-run projects should be part of the series. Shirley is a certified meeting facilitator and has been delivering classes and seminars on Meeting Management to individuals, teams, and organizations since 1994. As far back as 1986, Shirley has been involved in many major project activities: including information systems design, process development, and quality improvement. She began actively exercising the role of project team leadership and planning Project Management in 1993. Shirley continued to polish her skills and eventually started helping others to learn some project planning basics in 1996 through both seminars and self-teaching materials.
From Team-Building series: (click here for descriptions)
Group Development (Vision/Mission/Goals, Roles, Decision Making, Meeting Participation, Brainstorming and Idea Generation)
Problem Solving (D.A.G.G.E.R)
Shirley Lee began adding to her Wizard training series in 2005 as clients asked for information on putting together committees or building teams. And of course, once these committees are teams were put together they needed to understand the principles of effective meetings, or project management, and how to solve problems.
From Technicomp's Team series: (click here for outlines)
Introduction to Teams for Excellence
Stages of Team Development
Roles of Team Participants
Conducting a Meeting
Types of Teams
Technical Requirements of Teams
Decision Making
Interpersonal Skills
Handling Potential Problems
Achieving Team Excellence - Implementation Realities
Process Flow Analysis
Identifying Customer Needs
Domain Analysis
Shirley Lee was introduced to the Technicomp's series in 1993 and began facilitating the modules soon after. She was impressed by how easy-to-understand it was as well as the fact that a team could complete the entire series using only one workbook per member. The modules can be used together for start-up teams or separately as refresher training for existing teams.
Shirley Lee completed the Technicomp leader coursework for Teams for Excellence program from 1993 through 1994. She received instructor certification for teaming classes related to Process for Managing Conflict, Problem Solving, Exploring Empowerment, and Goal Setting and Feedback for Performance Development in 1995, as well as Cornerstone Innovationís Stress Balance. 1997-1998, Shirley developed and delivered topic seminars and short courses on Change, Thinking, and Train-the-Trainer. Also in 1998, she completed Managing Results, the change management course by Arbinger.
Shirley Lee first received DDI instructor certification for team-building courses in 1995, as well for their other employee empowerment courses: Communication/Making the Difference, Partnerships for Improvement, Working in Teams, Valuing Differences and the Team Meeting Mechanics series of: Participating in Meetings, Leading Effective Meetings, Reaching Agreement in Teams, and Rescuing Difficult Meetings.
Shirley Lee began teaching Microsoft applications in 2000 and was given Expert MOUS Certification that same year on their four primary applications, which qualified her as a Master. For information on MOUS certification, see Microsoft web site via www.mous.net. (Each computer training course level is a full day hands-on courses.)
Shirley Lee quickly learns computer applications and finds it rewarding to convey the knowledge to others. She began teaching computer classes starting with TK! Solver for engineers in 1988. Then she started delivering and developing Lotus courses in 1990. (Each computer training course level is a full day hands-on courses.)