Description

Workshop Outline

Workbook Outline

Time Management

Problem: Most people feel they would be more successful if they could just figure out how to make the time they have work for them better.

Solution: To enable people to be better time managers, this quick unit is a study in time management principles and related skills using T.A.P.P. steps. In just a few hours, attendees will learn: how to remember appointments and prioritize a task list, and what may detract from their time and how to deal with it. The handout will includes sample formats that may be used to practice the principles and skills outlined.

Magic: "When you get control of your time, it will magically seem like you have more time to accomplish important tasks."

Opening
Objectives & Agenda
Time Management Style Profile
Basic Principles & T.A.P.P. Steps
Tasks & Prioritization
Individual Practice
Appointments & People
Time Log
Individual Practice
Interfering Problems
Tips
Self-evaluation
Closing
Question & Answer
Review & Additional Information

Estimated training time:

4 hours with Time Management Style Profile

2 hours with Practice activities

Click cover above to order Paperback Book

64 page book

T.A.P.P.

Steps in Time Management

Click here to view

Book's

Table of Contents

without going to

Amazon's

Search Inside This Book

Workspace Organization

Problem: Things are cluttered and needed items can not be found in a timely manner.

Solution: Using this unit in about an hour learning will include how to plan and implement an organization project for any area or item type using the S.I.F.T. method. Various types or organization problems are discussed.

Magic: "When you organize your workspace, you accomplish things more quickly by knowing where to find necessary items."

Opening
Objectives & Agenda
Basic principles & S.I.F.T Method
Scheme, Initiate, Format, and Triumph
Problem Areas
Discussion
Closing
Questions & Answers
Review & Additional Information

Estimated training time:

Meeting Management

Problem: Some people do not enjoy attending meetings because they feel little gets accomplished and therefore their time was wasted.

Solution: People need to know meetings are an important way to get ideas shared and important tasks accomplished. This short unit is designed to help make meetings more effective by offering a quick look at basic meeting management and the related skills needed through the R.A!R.A! approach and other tips. In just a few hours attendees will learn: the necessary meeting roles, how to get the right people there, how to start and end meetings on time, how to accomplish more in each meeting , how to insure meeting ideas and decisions are captured, how to accomplish needed tasks and follow-up outside the meeting, what may detract from meeting and how to deal with it, and how to improve future meetings.

Magic: "When you have control in meetings, not only do you accomplish more in less time but you also bring a skill that can be learned by others through observation. "

Variations include:

Holding Effective And Efficient Team Meetings

Taking Excellent Meeting Minutes for Team Scribes and Admin Professionals

Facilitating/Leading Productive And Interactive Meetings for Business Leadership

Opening
Objectives & Agenda
Basic Principles & R.A!R.A! Approach
Meeting Purpose Statement
Meeting Types
Preparation
Facilities, Equipment, & Materials
Set-up & Take-Down
Checklist
Invitations & Reminders
Roles
Agenda
Open, Close, & In-between
Agenda (3 T's method)
Practice Meeting
Records
In Meetings (Boards & Flipcharts)
Actions (3 W's method)
Meeting Minutes
Practice Meeting
Beastly Problems
Practice Meeting
Meeting Evaluation
Closing
Question & Answers
Review & Additional Information

Estimated training time:

4 hours without Practice activities

5 hours with Meeting Practice activities

6 hours customized Team Practice

Optional Add-ons for Full-Day Training

2 Hours for Train the Trainer/Deployment Planning

2-3 Hours on Tools for Facilitators

Click cover above to order Paperback Book

64 page book

R.A!R.A!

A Meeting Wizard's Approach

Click here to view

Book's

Table of Contents

without going to

Amazon's

Search Inside This Book

Project Management Simplified

Problem: Many people feel they could be more successful at planning and managing projects if they could just learn how the process works.

Solution: This unit will help guide new project managers and team members through the O.P.I.E. process of simplified project management. It will help them better understand how the planning and controlling of projects and resources should be done. The workbook for this unit includes sample formats that may be used to practice the principles and skills learned, as well as for future planning and budgeting purposes.

Magic: "When you properly manage a project, you may become considered wise and skilled in this area and then be asked to manage other projects, which increase in importance."

See also work team version:

Simplified Project Management For Teams

Opening
Review Objectives & Agenda
Basic Principles & O.P.I.E. Process
Project Roles & Types
Open Project
Objective & Analysis
Preliminary Approval
Project Manager
Team Activity
Plan Project
Specification
Schedule
Resources
Budget
Plan Approval
Team Activity
Implement Project
Project Team
Plan Execute & Monitor
Communication
Progress Reviews & Performance Appraisal
Team Activity
End Project
Administration & Celebration
Compensation & Evaluation
Team Activity
Meetings
Meeting Roles
Agenda, Records, & Actions
Hints
Risky Problems
Closing
Question & Answers
Review & Additional Info

Estimated training time:

9.5 hours with Team activities

6 hours without activities

Click cover above to order e-Book
About the Author (click here to see workbook outlines)
Shirley Lee has been a strong advocate of time effectiveness principles, such as creating a list of tasks to be done and then scheduling the time to do them, since 1987. To help others learn to better utilize their time, Shirley spread her enthusiasm for the topic by teaching time management classes and seminars beginning back in 1989.

Shirley Lee began using organization principles and methods before 1975 in both her personal and professional life. She believes in maximizing space and keeping things organized for better efficiency and neatness. To help others with space utilization and work organization, Shirley began formally coaching on-the-job in 1985.

Shirley Lee began her formal training as a facilitator in 1992. She has facilitated many different types of meetings including these: vision/mission/goal planning, problem solving, process mapping, change initiatives, reorganization, and quality improvement. She started delivering classes and seminars on meeting management to individuals, teams, and organizations in 1994.

As far back as 1986, Shirley Lee has been involved in many major project activities: including information systems design, process development, and quality improvement. She began actively exercising the role of project team leadership and planning project management in 1993. Shirley continued to polish her skills and eventually started helping others to learn some project planning basics in 1996 through both seminars and self-teaching materials.

Shirley Lee holds a degree in Business Administration. She spends most of her professional time developing productivity tools/programs, presenting workshops, facilitating team building and meetings, as well as writing. Shirley considers this fun too. However, in her personal time she enjoys her family, reading, gardening, and needlecrafts.
Taking Excellent Meeting Minutes
Participants who have a professional responsibility to improve the services and documentation provided for business meetings will gain knowledge of minutes as the key historical record of what happened in a meeting. Participants will understand their role as minute-taker and how the production of minutes can be most beneficial to the people reading them.
Benefits: If your organization seems to repeat the same meetings over and over, the problem is most likely tied to ineffective or lack of record keeping. Having the skills to provide a good history of each meeting can save company managers and employees time in future meetings and will insure the necessary actions outside the meeting are completed so that the productivity of meetings is also improved.
Learning Objectives:
Understand the key elements to put at the beginning of minutes
Learn methods for recording meeting discussions
Know why definitions in documentation are important
Understand why just recording decisions is not enough
Know what information that should be put at the end of minutes
Learn ideas to improve the value of the record-keeper role
Facilitating/Leading Productive And Interactive Meetings
It is vital to learn how to plan and control business meetings. This training will increase the effectiveness and efficiency of meetings by offering key concepts in meeting management for leaders. Beginning with a discussion of the "Ten Mistakes Meeting Leaders Make"and moving into the best ways to avoid them. Supervisors and managers will learn: what types of meetings there are and how to plan each for ultimate productivity; when it is best to hold a meeting or use another form of communication; how to increase group participation in meetings; how to recognize a meeting has gotten out of control and methods for regaining focus, as well as how to calculate the cost verses effectiveness of their meetings.

** Based on book: R.A!R.A! A Meeting Wizard's Approach.


Benefits: With the concepts from this training, your meetings will be more productive and accomplish the goal for having each meeting. In addition, as managers learn how to facilitate interactive meetings, you will gain more innovation by tapping into the creativity and ingenuity of all meeting members.
Learning Objectives:
Understand the different types and methods for meetings
Create an effective meeting agenda using 3T's
Understand meeting roles and how to assign
Determine meeting participants and send invites
Control the flow and productivity during meetings
Assign action items using 3W's
Distribute informative records via minutes
Learn to control meeting problems early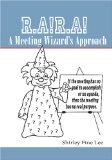 Click cover above to order Paperback Book or below for
RARA A Meeting Wizard's Approach Kindle e-Book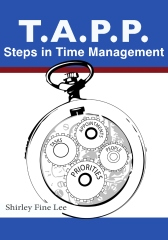 Click cover above to order Paperback Book or below for
TAPP Steps in Time Mgmt Kindle e-book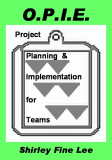 OPIE Project Planning and Implementation for Team - Only available as Kindle e-book on Amazon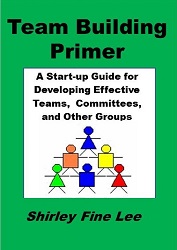 Team Building Primer: A Start-up Guide for Developing Effective Teams, Committees, and Other Groups