This bimonthly
e-news is made available to further the mission:
"To help organizations increase employee and system potential to produce results."
We encourage sending this to others so they may benefit from the information provided.
If you know others who would like to subscribe to this newsletter, please forward this issue so they may click here to subscribe.
To remove your name from e-mail list, click here to unsubscribe.
To review past newsletters, click here for archives.
If you would like to reprint an article or have a similar article written for your newsletter, please contact the newsletter editor.
Providing:
Classroom Delivery,
Communication Publishing,
Consulting Services,
Instructional Design,
Keynote Addresses,
Meeting Facilitation,
Newsletter Articles,
Productivity Training,
Seminar Speaking,
System Support,
and Team Building.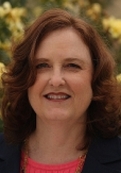 Copyright 2007
Shirley Lee
All Rights Reserved
According to executives at Fortune 500 companies less than 50% of their change initiatives were successful.
When planning a change initiative, you should ask the following questions.
· Who will take what roles in the change process and what will be their responsibilities?
· What will the new structure or process look like after the change?
· Who will this change affect and how does this change affect those people?
· What are the different stages of the change plan and what are the desired deadline dates?
· What type of communications should be provided, to whom and when or how often?
If you are looking for a good book on the change process or the people side of change, consider:
· "Managing At the Speed of Change" by Daryl R. Conner
· "Managing Transitions: Making the Most of Change" by William Bridges
How can your computer help with change initiatives? You probably already know how you can use it to create both text and graphic communications to reinforce the change plan. And some of you may use spreadsheets, project management software, or other applications to track progress on schedule and budget. These methods help you once you have decided how to deploy your change. What if you haven't decided on what the best change to make is or need help on coming up with a process for the change deployment? To help you get a jump on planning your change in the best way, you can utilize search engines to find change management books, consulting, training, and other tools.
I'd like to share an idea I use in workshops and meetings for helping managers and teams to understand the importance of proper planning when managing a change plan. In your next facilitated meeting or training session, try the activity I designed and outlined in the Dallas ASTD newsletter article at
http://www.dallasastd.org/news/ASTD/articles/Black_hole.htm
"The art of progress is to preserve order amid change and to preserve change amid order."
- Alfred North Whitehead
ISBN: 1-4196-5367-9
ORDER BOOK AT www.Amazon.com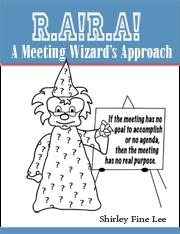 R.A!R.A! A Meeting Wizard's Approach
IN THE NEWS
---
KEYNOTE
SPEAKER
AVAILABLE!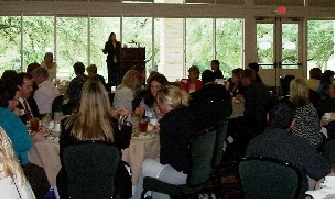 Where can the Meeting Wizard be heard?
The Meeting Wizard's
calendar has openings.
Contact Shirley Lee at
214-457-5736